Join the Discover Energy VPP (Virtual Power Plant) Membership Advantage Program and gain 25c solar FIT and the ability to trade battery energy on Discover Energy's game-changing energy trading platform.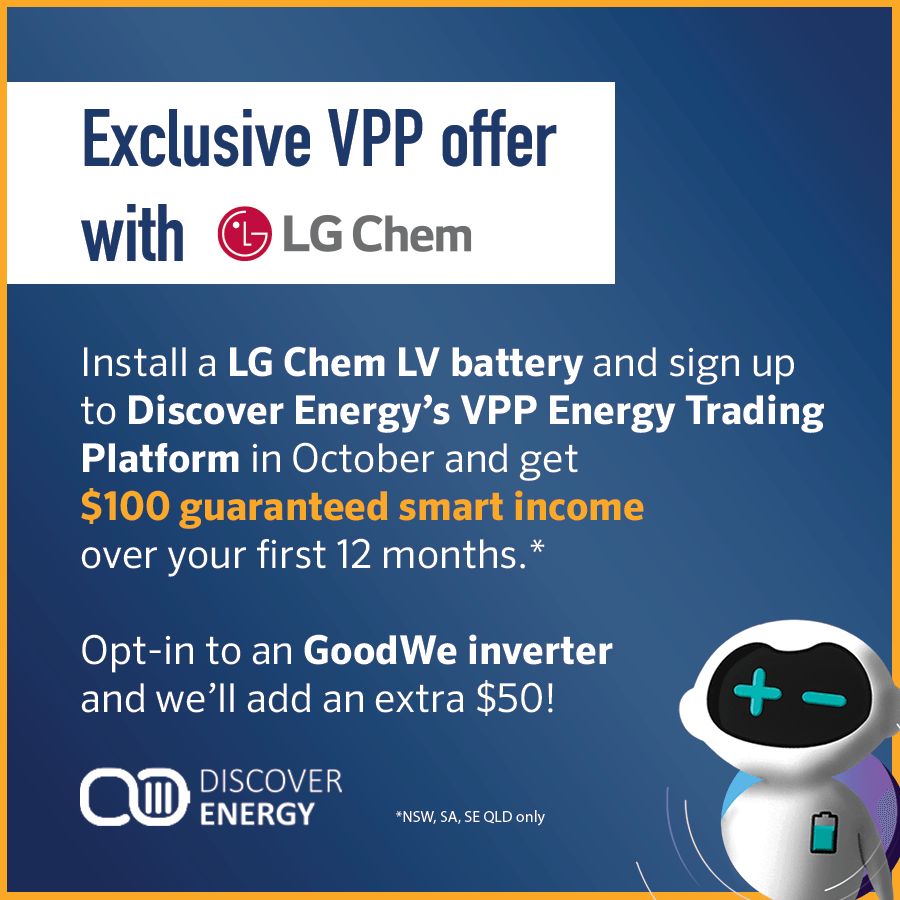 Exclusive LG Chem Offer: $100 Guaranteed VPP Smart Income!
New LG Chem (LV) installations who sign up to DE VPP network in October will receive a guaranteed VPP Smart Income of $100 over their first 12 months.
Become RE100: Discover Energy will also apply free 100% Accredited GreenPower to offset any of your consumption from the traditional energy grid until 31 December 2020, making your home 100% renewable energy for the rest of the year.
Adding a GoodWe inverter? Enjoy an additional $50 guaranteed VPP Smart Income
If you've added a GoodWe inverter to your new LG (LV) battery, Discover Energy will add an additional $50, increasing your guaranteed smart income to $150 over 12 months.
Hurry! Offer applies to the first 150 units only. NSW, SA, SE QLD only.
Want to join Discover VPP? Talk to a VPP expert: 1300 946 898 | 0422424064 or email sales_vpp@discoverenergy.com.au
First 150 units only. New installations from 1st September – 31st October only. NSW, SA, SE QLD only. LG Chem LV models only. LG Chem models that are compatible with GoodWe solar inverters are RESU 6.5, RESU10, RESU13.